If you're in your favourite local cafe reading this blog post, chances are you are browsing over an open WiFi connection, open for easy interception. If you are at home, your ISP (Internet Service Provider) likely logs your activity for advertising targeting or bulk data collection.
"ISPs are in a position to see a lot of what you do online. They kind of have to be, since they have to carry all of your traffic,"

Explained Electronic Frontier Foundation (EFF) senior staff technologist Jeremy Gillula, in an interview with PCMagazine UK.
The simplest way to prevent this surveillance and keep your internet browsing data secure is to use a VPN.
What is a VPN?
In summary, a VPN is an encrypted tunnel between your device and a server. All your internet traffic and data goes via this tunnel – and to the websites and services you connect to, you only reveal the IP address of the VPN server, masking your identity and location.
How do I setup a VPN?
There are many VPN options out there, including paid providers. However, you can easily set up your own VPN server on Bytemark in 5 minutes with the Outline Manager. On our MicroVM specification, this will cost just £6 p/month.
Outline is an open source project, designed to "provide a safer way for news organizations and journalists to access the internet". It's also perfect for individuals looking for a simple way to configure a VPN and get more privacy online.
Why Outline?
Outline is an incredible project from Jigsaw, aimed at providing safety to journalists online, particularly those in countries with censored or monitored internet.
From our perspective, it is the easiest way for anyone to create their own VPN server in a few minutes and grant anyone access from an easy to use interface. It works on Mac, PC, Android, iPhone and Linux.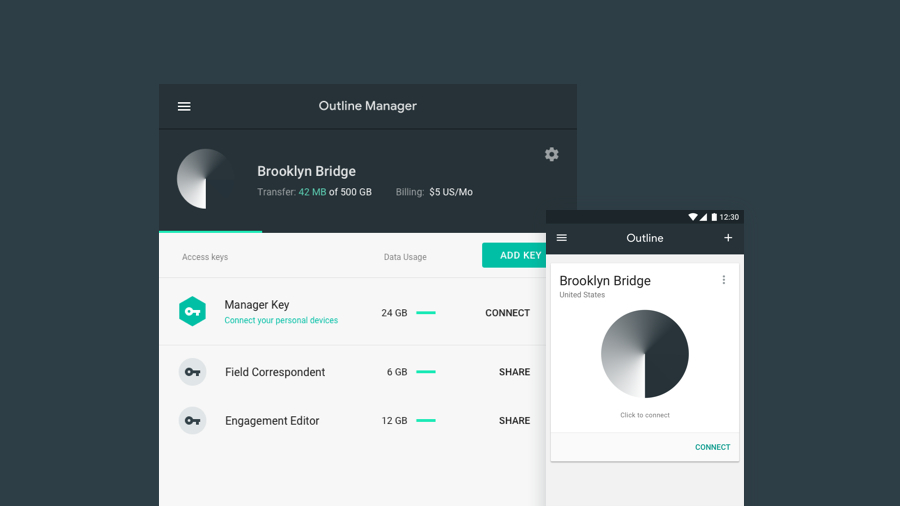 TechCrunch reviewed Outline and summarised with:
"And there's one thing for sure, Outline is much better than any free or commercial VPN service out there."
Outline has key benefits over other solutions and paid VPN providers:
Operate your own server and control who has access to it
Outline is completely open source and was audited by Radically Open Security (2017) and Cure53 (2018). If you wish, you can review and audit the code yourself
Strong and fast encryption by default (via Shadowsocks)
Once configured, Outline servers keep themselves updated with the latest security updates. No maintenance required.
Why Bytemark?
By choosing Bytemark as your Outline host, you'll gain:
We offer a generous 7-day trial – try Outline for free on Bytemark Cloud.
We offer 10TB of transfer with your server – considerably more than competitors.
Bytemark owns its data centre and operate an information security management system (ISMS) in accordance with, and certified to, the ISO27001:2013 standard
We're passionate about open source and operating ethically. We're proud of our manifesto https://www.bytemark.co.uk/company/
How to Install Outline
Download Outline Manager here: https://getoutline.org
Click 'Setup Outline Anywhere'
Deploy a Debian 9 server in Bytemark Panel and wait for it to start. Keep the password safe!

Click 'Console', type root and the password from the previous step.
Copy the command provided in the 'Outline Manager' and connect to your new Bytemark server over SSH via the 'Console' button in Panel or in your preferred way.
Tip: If you get 'sudo not found', remove the word 'Sudo' from the command and retry.
Next, type 'Yes' to install Docker.
Wait while the script installs and copy the line provided.
Following the instructions within the Outline Manager to setup Outline on this device, or click 'Add New Key' and share the generated details to connect from another Mac, PC or mobile device.
On the device, click the invitation link and follow the instructions.